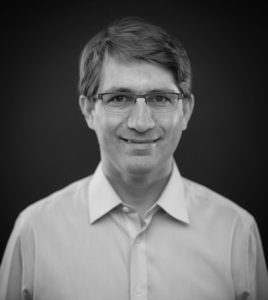 As the CTO of Tayloe/Gray, a Wilmington-based marketing agency, as well as a fixture in the regional community, Andrew Gray actively supported local charities and championed causes for the community. He was engaging and engaged. Andrew's curiosity and passion drove him in all he did. 
For years, Andrew proudly supported the Parade Mile through personal involvement and donations from his company. In the past, one might have seen him and his son running in the MGC Parade Mile together (wearing matching seersucker suits).
Andrew's involvement with the Tisch Center began in March of 2018 when he was diagnosed with stage 4 glioblastoma. He was treated by Dr. Alan Friedman at Duke's Preston Robert Tisch Brain Tumor Center where, despite his condition, he spread his particular brand of positivity and energy during his visits. The Tisch Center doctors and staff were incredible during his treatment, and Andrew and his wife, Stewart were both grateful for the care they received there. After battling cancer for a year and a half, Andrew passed away on October 5th, 2019 surrounded by his family. Andrew was widely loved, is greatly missed, and will continue to etch a deep mark on this world through his beloved family, many friends, and through his legacy at Tayloe/Gray.
The designation of the Tisch Center as this year's MGC Parade Mile charity recipient is in gratitude and honor of their efforts on behalf of our departed friend, and local luminary.